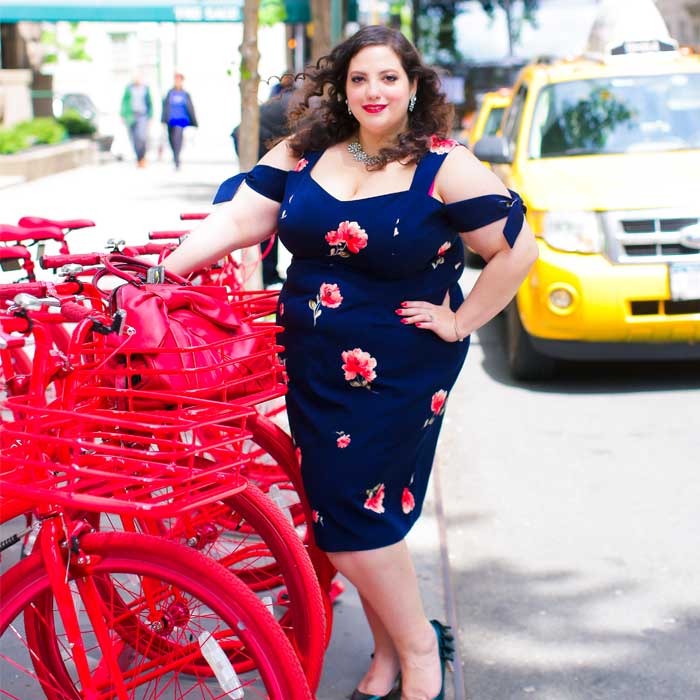 I'm a two time bestselling style author and personal stylist. Since 2014, I've helped hundreds of women develop their own unique signature style so that they can step out into the world as their best selves.
I believe that everyone wins when women feel confident showing up - and that for many of us, that starts in our closets. I'm passionate about helping you look like the person you truly are inside.
Introducing The Society of Extraordinary Style
There are so many tools and resources and ideas and courses out there to teach you how to build a wardrobe and figure out what styles work on you. Everyone from Tim Gunn to Ines de la Fressange has written a book on how to look chic. A quick pinterest search will provide dozens of capsule wardrobe templates. 
But is any of that really working for you?
Sure, a prefab capsule wardrobe plan that tells you exactly which Old Navy top to buy may seem like an elegant solution, until you realize the cut of that top is way too boxy for you and the color makes you look dead… then what? 
A stylist box feels like something picked just for you, but a quick Youtube search makes it pretty obvious that a lot of other people got the exact same items you did and then you're left deciding which piece to add to your pile of rarely worn things in order to avoid throwing $20 into the abyss. 
Here's the deal - I truly believe your best chance of actually creating the extraordinary and unique signature style you desire is to style yourself. But you don't have to do it BY yourself. 
As a member of The Society of Extraordinary Style, you'll get access to all of the resources I've created over the years to help my VIP clients develop their signature style, as well as the ability to join me on the group calls to ask questions and get direct personal feedback from an expert stylist, AND a whole community of women working on their style alongside you to share the journey from turmoil to triumphs. 
If that all sounds great to you, but also like you'd never be able to afford it, I think you'll be pleasantly surprised.
What Does it Mean to Join the Society?
My goal with the Society of Extraordinary Style is to be able to offer members an easy and affordable way to get the objective feedback and mentorship they need to figure out once and for all what they should be wearing and to finally build a wardrobe that truly works for them.
We run on an annual schedule. 
In January and July

, every club member who wants one is hand-paired with another woman as a (loving!) objectivity partner. You'll always have someone to go to for feedback to help keep you on the path to the wardrobe of your dreams. 

In February, May, August and October

, we work as a group on building personalized seasonal capsule wardrobes for Spring, Summer, Fall and Winter respectively. 

In March & November we start a two month style development deep dive

. This is a group work-through of my signature program, Frustrated to Fabulous, which will walk you step by step through the process of finding your unique signature style and developing that idea all the way through to finished outfits hanging in your closet. 

Every January we start the New Year with a group Wardrobe Purge (and then we do another round in June for good measure! )

. We will follow my unique wardrobe auditing process as a group to pare your closet back to the best of the best and start the year off fresh.
When you join, all of this is included:
Frustrated to Fabulous.

This is my style development signature course. It takes you through forming a plan for your unique signature style, to using that plan to edit your wardrobe, plan your next purchases, and build outfits that are perfect for you. This is the exact method I use with my VIP clients.

Discover Your Image Archetype.

This is my unique method for finding your holistic body type and the first key to moving from confusion to clarity about what works for you. 

Instant access to every digital product I create.

Society members are my first line! Whenever I create anything, you are the first to receive it. This means that you'll get free access to every self-published book, every online-only course, every resource.

Weekly live video workshops with me.

Every week, I host a 2 hour open office where I'm available to work with you on your wardrobe. You can ask me questions, share your problems, and get feedback on outfits and purchases. If you can't make it live, you'll be able to watch a replay.

Access to a secret Facebook Group.

This is a place for you to connect with other members of the society and share your thoughts, revelations, and most importantly outfit pictures! There will also be posts to help keep you updated on what's currently happening within the Society, so you never feel lost or out of touch.

Maybe the best thing you'll get when you join the club is objective feedback.

Twice a year, in January and in July, we give you the option of being paired with another woman as an objectivity partner that we match you with to help you apply the principles we'll be learning and see objectively what it's always so hard to see yourself. 

Join or leave anytime you want. Unless you decide to join for a full year, you will have absolute flexibility as to when you join and when you leave. You're even welcome to leave and come back a month later, whatever works for you.
You also get:
A discount to any of my other workshops, classes or services.

As a society member you'll get first access to any openings in workshops and classes, first dibs on any of my travel dates, and a 25% discount if you choose to purchase them.

If you sign up for a full year you'll get a 30 minute 1-on-1 consultation with me.

During this call, I will confirm your Image Archetype for you and give you personal feedback on what styles will work best on you. And if you already know your archetype, you're still welcome to this time to ask me your questions and get my advice and suggestions--just the two of us. :)
Frequently Asked Questions about the Society of Extraordinary Style
Do I have to have had an Image and/or Color Analysis first?
Nope. There is a program included in the course specifically to help you figure out your own Image Archetype. As for Color Analysis, you will have the option of seeking one out with me or one of my colleagues that is located closer to you (a list will be provided of who to contact), or if you know what colors you'd like to wear, you can move forward with those. You don't have to purchase anything before you join the club.
Are you going to tell me my Color Season and/or Image Archetype? 
When it comes to season, I would love to, but I literally can't. Color just doesn't work through a screen with enough accuracy for me to say for sure which season you are. I wish it weren't so, but it HAS to be done in person. I'd be happy to offer my best guess, and give you feedback on how well certain colors you're trying are working for you. You can also choose to see me privately in my studio for a full Color Analysis (at a discounted rate with your membership), or refer to a list of my colleagues located all over the world. 
As far as your Image Archetype goes, there is a program included within the society to help you self-identify your Image Archetype, even if you've tried before and got stuck. I don't want to brag but it's really, really good - most people can get down to the right choice themselves. Additionally, if you sign up for a year in advance, I will confirm your archetype for you on a private 30 minute call. You can also choose to purchase that separately as an additional service (at a discounted rate) at any time during your membership.
What if I can't make it to the live chats?
Don't worry! I'll record them and send you the replay.
Will there be men there?
Nope, no men allowed. 
Will the Society be a fit for me if I'm plus sized?
Of course. The methods I use involve using the principles of art and design to determine what's in harmony with your natural self. No matter what you look like, this methodology will help you find what works effortlessly on you. 
I've already had a Personal Color Analysis & Personal Image Analysis and read all of your books. Do I really need this?
Well, That depends. Are you using it? Do you need help and support figuring out how to actually apply what you've learned to your wardrobe? Are you finding it hard to find things that work with your season and archetype that also feel like you, or that work with your lifestyle?
Are you ready to stop second guessing and have a place to ask your questions, get feedback and develop the confidence to just know what works for you?
Then, yes. I think you do need this. I'm confident it will help you.
Can I leave whenever I want? 
Yep, the Society of Extraordinary Style is offered month-to-month. So whether you decide it's not for you or just want to take the summer off, you can leave when you like, with the freedom to come back later. The only exception is for those that choose to sign up for the full year, in which case you're under no obligation for the following year. 
Can I pay with Paypal?
I can only accept non-recurring payments via Paypal. For those who choose to buy an annual membership, Paypal is an option.
Will new things be added?
I am dedicated to making The Society of Extraordinary Style the resource you need to finally be able to create a wardrobe that works for you and reflects who you truly are. That means I'm constantly coming up with new ideas to help you create your ideal wardrobe and learn how to be your own master stylist for the rest of your life. 
The most exciting thing to me is that the society gives me a baseline of students. Society members are the front line. They get to try out new things and they are my priority when I offer those new things. Not only will new things be added, you'll help me figure out what new things we need.
Should I spend money if I'm on a limited clothing budget?
I can only answer this from my perspective, but after many years and hundreds of clients, I find that a lot of my clients are wasting as much money as this program costs every year on clothing, accessories, makeup, hair color, etc that doesn't work for them. Sometimes a lot more.
Even if you don't have a ton to spend, if being a part of this program allows you to spend it more wisely, it will likely be a net gain. And learning to choose, and therefore spend money on, only what truly works for you is an investment that will pay dividends for the rest of your life, or as long as you keep wearing clothes. ;) 
How long will it take me to fix my wardrobe?
For most women, a year is a good benchmark. 
This allows you to take the time to purchase only the right things if and when you find them, and to test out wearing what you have through all the seasons of the year and see how it's working and troubleshoot (with my help) if needed. 
But there's more to it than that. Learning the skill of building a wardrobe takes time, but if you do it now, you will always know how to do it. So when you get older, move to another state, change jobs, have changes to your body, etc. you will know how to curate a wardrobe that works for you not just now, but when things inevitably change.